Happy Sunday everyone!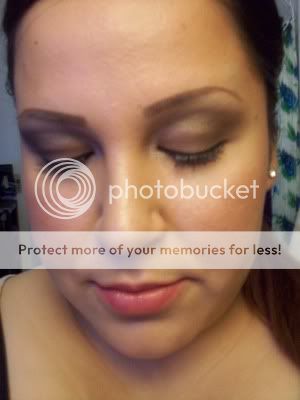 Originally for this look I was going to use a nude lippie, but right before I could apply said lippie the hubby brought in the mail and I got a package! I was so excited to open and try on the MAC Gem of Roses lipstick I had purchased from Ebay. Yes, I know NEVER buy MAC from Ebay right? I never do. BUT this time I made an exception because the seller mentioned they could send a receipt for the item and they were only selling a couple of items from the Semi-Precious collection.
I don't think fake MAC makers could have made the new MSF's and blushes so quickly, LOL. Anywhoooo the lipstick IS REAL and I only paid $20.00 (inc. shipping) for it. So like $5 more than for what it sold, but it's worth it plus it was sold out when I decided on getting it finally. I am in love with it! Seriously, my new favorite lipstick! It's very "my lips but better!"
Here is the look I did today. Nothing special, just felt like bringing out the old Naked palette:) I was going for a really soft look with sort of a bronzey smokey eye for daytime. I feel that the lipstick really pulled it together and gave a very girly feel to my face.
What I Used:
Face:
Urban Decay De-Slick Spray
Sephora primer
Maybelline Fit Me Foundation in 130
NYX Orange Concealer
MAC MSF in Medium +
MAC Fix+ Spray
MAC blush in Springsheen
Sleek contour kit in Light for highlight and contour
Eyes:
Base by NYX in Skin Tone 03
Lid: Sidecar and Smog from UD Naked Palette
Inner duct and under brow: Virgin from UD Naked
Crease:Darkhorse from UD Naked
Liner: Physicians Formula liquid, UD pencil in Zero bottom
Lashes: Maybelline One by One Volume Express
Brows: Bare Escentuals brow powder in Dar Blonde/Medium Brown
Lips: MAC Gem of Roses (looooveeee)
Thanks for reading :)