By now, everyone and their mother has seen this collection LOL but here is my teensy weensy little haul courtesy of my sister Lexe. She bought these items for me as my graduation gift. We both went to the MAC Surf Baby collection preview party at our local MAC store and I got all of the following pictured, except the My Paradise blush which was sold out. One week before it was scheduled to debut, it was freakin' sold out at the store... can you believe that? But you know why if you own it ;) It is gorgeous and definitely my favorite piece out of the entire collection, with the Hibiscus lipstick coming in as my second place.

Anyways, the party was fun they had cocktails made with Jose Cuervo, appetizers served by male models and a screen printing station. I did not check that out because of the line but it looked cool. My sis picked up the Sun Blonde and Surf USA eye shadows. I really loved the sea green color of the Surf USA shadow but I didn't think I needed it. Aside from the following items pictured below, I also got the Swell Baby eyeshadow but returned it a couple of days later. It lacked pigmentation in my opinion and wasn't smooth when applying. Bleh. I bought the My Paradise blush from another MAC store in my area on the day it released, May 26th. So the products I do have in my possession are the following: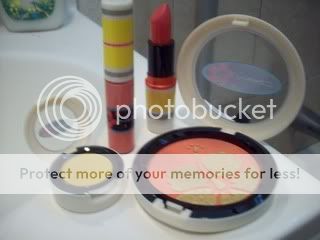 Sun Blonde eye shadow, Strange Potion lipglass, Hibiscus lipstick & My Paradise cheek powder. Sorry for the bathroom sink shot but the bathroom has the best lighting in the house so far, LOL.
Gorgeous overspray design of my favorite flower, the Hibiscus. I have not even used this blush yet, I am too scared of messing it up, hehe. Sorry I do not have a pic of the swatch for this yet, but I will post once I do. This was $28.00 USD.
I'm not super happy with the texture of this eyeshadow (Sun Blonde) either, but I love the mustard-like color of it and in general I am a big fan of yellow eye shadows. The price for this was $15.50 USD.
The Hibiscus lippie next to my Ever Hip lipstick from the Liberty of London collection for comparison. Again, sorry for the crappy looking sink shot :/ The lipstick was $15.50 USD also.
Hibiscus on my lips, my new favorite lipstick of the moment. Great shade for Spring and Summer in my opinion, and it looks great on my NW25 skin tone. Such a creamy, buildable color I would highly recommend it, it is worth the hype!
The Strange Potion lipglass, a pretty color to go over the Hibiscus lipstick. Some of you may be familiar with it, it first came out in the Venemous Villains collection which I missed out on. Great pinky coral staple for any collection. This lipglass was $15.50 USD.
A few color swatches done on my hand. Poor quality, I know... I can't wait until I get a new camera!
Left is of the Sun Blonde eyeshadow, middle swatch is the Strange Potion lipglass, and the last is a swatch of Hibiscus.
Thanks for reading, what did you pick up from this collection? Let me know in the comments!